Unleash Your Potential, Boost Your Income, and Build a Thriving Career with Empower360! Enroll Now for Life-Changing Hair Extension Mastery!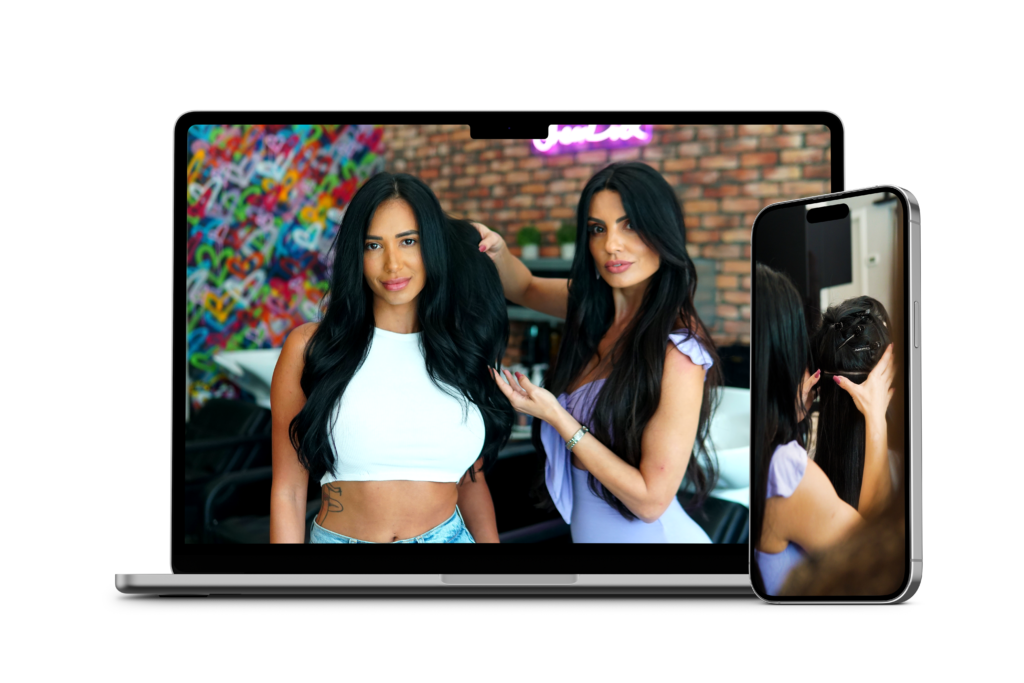 Imagine the joy of having more quality time with your loved ones, as you sculpt impeccable hair transformations and cultivate an ever-growing client base.
Are you tired of feeling the pain of struggling to master the art of hair extensions while juggling the demands of daily life? Do you yearn for financial success, quality time with family, and a fulfilling, long-lasting career? We understand the challenges you face and the importance of finding a balance between personal aspirations and technical proficiency.
At our in-person training program, we offer the solution you've been searching for. Say goodbye to the frustrations and self-doubt that have hindered your progress. Our comprehensive program not only equips you with the technical skills needed to excel in hair extensions, but also provides you with the tools to achieve financial success and find harmony in your personal life.
Imagine the satisfaction of effortlessly creating stunning hair transformations, boosting your clients' confidence, and establishing a thriving business that brings you the financial stability you deserve. Feel the joy of having quality time with your family, making cherished memories that will last a lifetime.
Our supportive community will surround you, offering guidance and encouragement every step of the way. You'll experience a sense of belonging as you connect with like-minded professionals who share your passion and understand the challenges you face.
Don't let another day go by feeling overwhelmed or held back. Embrace this transformative opportunity to unlock your full potential. Join us now and discover the perfect balance between mastering hair extensions techniques and achieving the life you've always dreamed of. It's time to turn your passion into a rewarding career that brings you both personal fulfillment and professional success. Take the first step towards a brighter future today!
Discover Empower360: The Ultimate Hair Extensions Mastery Course 
Are you ready to join the ranks of successful hair extension professionals? Look no further than Empower360, the most sought-after ONE-ON-ONE IN-PERSON TRAINING program in the industry!
Led by the esteemed founder herself, Carol Cook, this exclusive course will equip you with the secrets of her unparalleled expertise and industry insights.  With a track record of transforming aspiring stylists into top performers, Carol's teachings are the cornerstone of this game-changing program.
But it doesn't stop there! Empower360 is more than just technical training. Carol will mentor you in the art of client communication and business savvy, ensuring you have the skills to build a thriving hair extension empire.
Don't miss this opportunity to learn from the very best! Enroll in Empower360 today and unlock your full potential as a hair extension maestro. Limited spots available.
Empower360: Your Pathway to Hair Extension Excellence!
Ignite Your Journey: Join BelBonita Academy Now!
Sign up for BelBonita Academy and become part of a supportive network of passionate individuals who inspire, collaborate, and celebrate your journey to hair mastery.
Class participant introduction
–  Lets learn a little about our WHY'S
Removal of current Bel Bonita Extensions 
Belbonita solution removal
How to properly match the weft with the client's natural hair color 
Wash and Blow Dry Clients Hair
Application of BelBonita extension
Tape/adhesive application measuring and instruction
How to measure the weft to the client's head
How to section the hair
Explanation of how to properly apply each weft
Q&A
How to cut style and blend
Business side of hair extensions
Tape/adhesive application measuring and instruction
How to measure the weft to the client's head
How to section the hair
Explanation of how to properly apply each weft
Q&A
We are always here to answer all of your questions, in excellence and to your complete satisfaction